Green Procurement Initiatives
We are promoting "Green Procurement" which means procuring products, parts and components, materials, etc. with minimal environmental impacts from suppliers through understanding and cooperation, as part of our efforts to produce environmentally conscious products.
Procuring Environmentally Conscious Parts
To produce products with no defined chemical substances, we need to work on in cooperation with all supply chain partners. Especially, the proper control of contained chemical substance information through supply chain is required. For example, collecting and distributing information of chemical substances contained in products is required in the EU REACH*1 rules. Our company develops "Green Procurement Guidelines" and procures parts etc. from the supplier that meets the standard of the guidelines. We also confirm the RoHS*2 Directive by receiving the chemical substance information on parts from the supplier and analyzing a detailed classification results in our company. The analyzed results are stored in a database to make use of them in the quality control and determination to adopt a new part.In addition, we perform a green audit to regularly check if suppliers and our company manage the information properly.
*1 REACH (Registration, Evaluation, Authorization and Restriction of Chemicals): EU rules regarding registration, evaluation, authorization and restriction of chemicals
*2 RoHS (Directive on the restriction of the use of certain hazardous substances in electrical and electronic equipment): EU directive on the restriction of the use of certain hazardous substances in electrical and electronic equipment
Click Here for Green Procurement Guidelines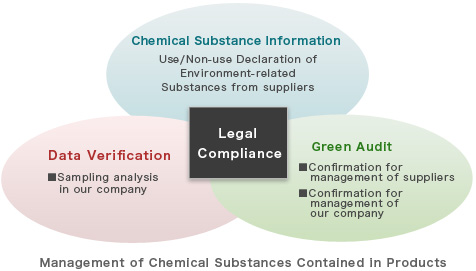 Environment-Related Substances Defined by Our Company
To comply with the regulations for chemical substances including the EU RoHS directive, we define the chemicals with potentially high environmental impact on the earth as environment-related substances and establish "Environmental-Related Substances Management Standards" which clarify the banned substances in products, reduction, substitution, intended purpose and so on. In addition, we have published "Green Procurement Guidelines" based on the management standards, and are promoting "Green Procurement" with the understanding and cooperation of suppliers.