Resource Saving Design
Magnesium Alloy Body
A Light and tough PC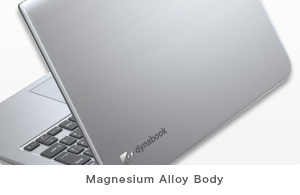 The body of the PC uses magnesium alloy that is light and offers excellent strength.
Supported models depend on model and local availability.
Honeycomb Rib Structure/Bus Tab Structure/Frameless Keyboard
Lightness and strength are improved.
Dynabook PCs have a "honeycomb rib structure" in the weight bearing palm rest and HDD/SDD covers. This adds protection and increases resistance to wrenching and twisting. A highly robust body that is also light and slim is achieved by employing our structural design technologies, including a "bus tab structure" to enhance body rigidity by unifying the base and sides, and a "frameless keyboard" that adds strength by unifying the keyboard and case with a rigid deflection beam.
Supported models depend on model and local availability.


Use of Recycled Plastics
Contributing to recycling of resources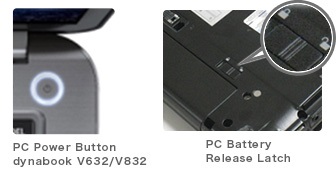 All Dynabook PCs and tablets make use of recycled plastics. For example, they are used in the LED lens of the power button and the battery release latch in PCs, and as case parts (button lock) in tablets. Reuse of plastics contributes to effective uses of resources.

Improvement of packaging
Non-use of Styrofoam and downsizing of packaging box.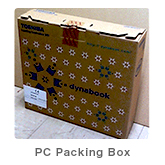 Our PCs do not use formed polystyrene in packaging materials and use expanded poly-ethylene or cardboard. On top of this, a smaller package not only reduces use of materials, it also increases load capacities and reduce CO2 emission during transportation.
Use of recycled plastic for packaging materials.
We are actively promoting the use of recycled materials in our packaging materials for the effective use of resources.
・Use of EPE (expanded polyethylene) containing 50% recycled material for cushioning material of products
・Use of PE (polyethylene) containing 35% recycled material for the bags that protect products and manuals