Management of chemical substances
Among chemicals, toxic substances have to be considered, especially as their improper disposal may well cause environmental pollution. To prevent pollution and ensure safe use of our products, we are working on reducing or completely eliminating chemical substances included in products, and using substitutes.
Restrictions in Each Country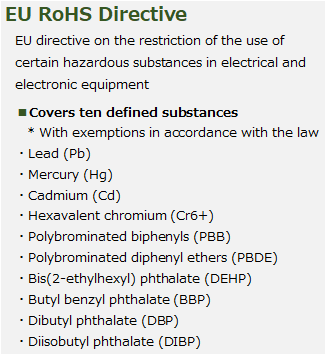 In the EU, products that include chemical substances defined in the RoHS Directive*1 are banned. Japan requires disclosure of product information, including chemical substances defined by J-Moss*2.
Dynabook PCs and tablets are promoting compliance with national laws and regulations, including these regulations, as well as voluntary industry standards.
Compliant with the EU RoHS directive
Content rates of object substances defined by J-Moss are under standard values
Compliance with other national laws and regulations and voluntary industry standards.
Promotes substitutes for polyvinyl chloride resin (PVC) or brominated flame retardants (BFR)
*1 RoHS(Directive on the restriction of the use of certain hazardous substances in electrical and electronic equipment )
*2 Japan Industrial Standard (JIS) 「the marking for presence of the specific chemical substances for electrical and electronic equipment」

Polyvinyl Chloride Resin (PVC) and
Brominated Flame Retardants (BFR) Free
There are concerns about the effects that polyvinyl chloride resin (PVC) and brominated flame retardants (BFR), have on the human body and health and the risks from the release of hazardous substances due to their improper incineration. Dynabook has eliminated use of polybrominated biphenyls (PBB) and polybrominated diphenyl ether (PBDE) (including Deca-BDE) in all notebook PCs, and the use of PVC for packing materials.

Since July 2007, all of our PCs have been classified as PVC-free*1 and BFR-free as they contain no parts using these substances that weigh 25g or more. In March 2011, we released our first US model that was completely PVC- and BFR-free in all of its plastic parts.
*1: Except for the cable

Halogen/Antimony-free Circuit Board
In 1995, we applied a flame retardant that did not include bromine halogen to the plastic cases of our PCs. In 1998, we succeeded in mass production of an environmentally friendly multi-layer printed circuit board" that was free of halogen and antimony, suppressing generation of dioxins. The boards were used in different models of of notebook PCs for the first time in the world and have been used continuously for some types of notebook PCs.

Lead-Free Soldering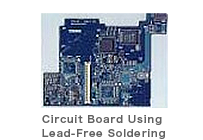 We promoted development of new soldering materials that were free of lead. This "lead-free soldering" was applied for the first time to the circuit board of a PC released in FY2000. Today, it is standard for all PCs and Tablets.

Mercury Free
The light source in the liquid crystal display is a light emitting diode (LED). Conventionally, mercury was used in Cold Cathode Fluorescent Lamp for backlighting, but use of LEDs realized mercury-free displays.